Realising your vision
I use my experience to offer advice and help guide your choices. I'll point out opportunities and potential issues that you might not think of. But I always remember that taste is a very personal thing; what we want to achieve is your ideal design, not mine.
I pride myself on being a good amateur cook and I've done a lot of entertaining over the years. So I'm well aware of the practical aspects of kitchen design: it doesn't just have to look great, it has to be a pleasure to work in too.
Different clients have different levels of experience and confidence with interior design. Some just want a few suggestions and confirmation that their design will work in practice; while some simply don't know where to start. I'm used to working with people who are anywhere on this scale of confidence and I tailor my input accordingly.
Creating kitchens, bathrooms and bedrooms that match your dreams and aspirations is what we're all about. Getting to that moment when your vision becomes a reality means a lot of detailed steps along the way. In reality every project is unique and the process we follow differs slightly to suit your needs.
But here's a summary of what you can expect: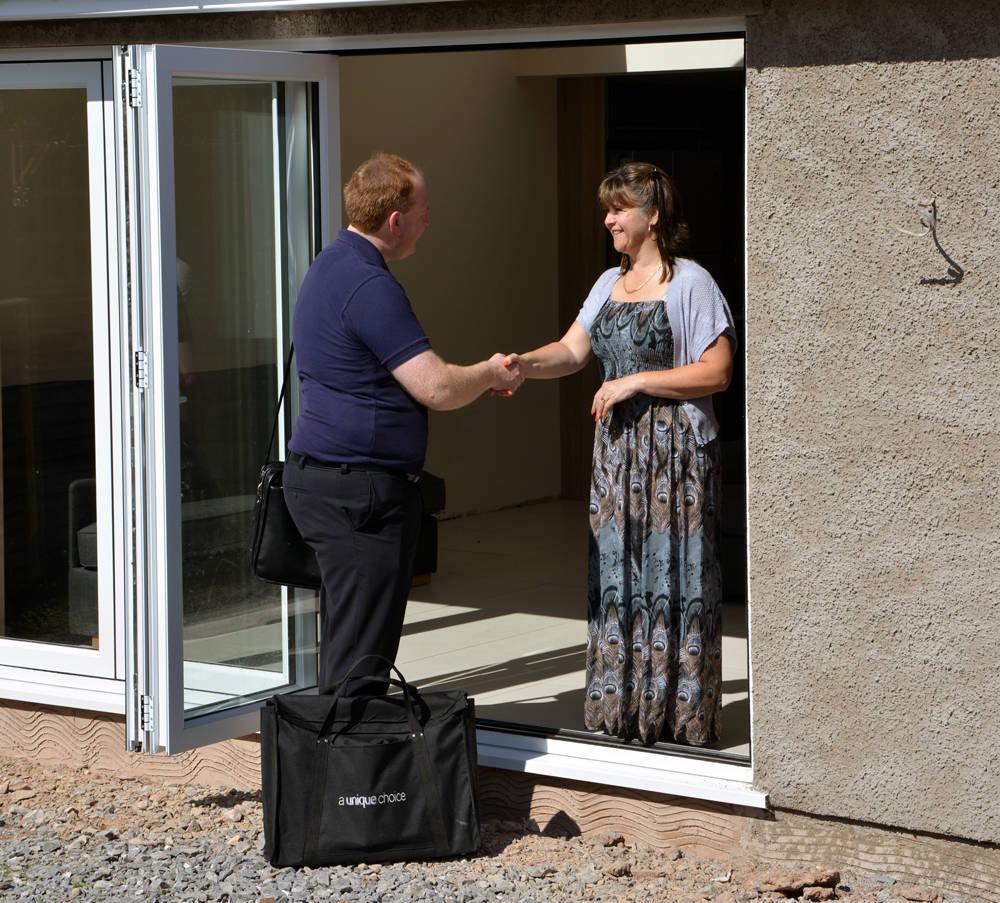 The initial chat
Most projects start with an informal discussion over the phone. For me, this to get a sense of the scale of your project, the sorts of things you like or don't like and anything particular you want to achieve. For you, it's a simple, no obligation, first step towards deciding whether Homefront Design is right for you.
First design consultation
The next stage is for me to visit you at a convenient time. Based on our initial phone call I'll bring some samples that I think will match your preferred style. But before we look too closely at these we'll examine at the space you want to develop, discuss the wish-list of features you'd like in your new design, and I'll explore what you like or don't like about your current layout.
I'll also be looking at any physical and practical constraints that will affect the installation.
During the visit we'll look at catalogues from our chosen suppliers and some examples of different solutions. Sometimes at this point, customers go for a completely different style from what they had originally described. No problem – it's all about finding what inspires you.
What almost always happens is that people are genuinely surprised (sometimes jaw-droppingly so) by the high level of quality of the sample doors I show them – particularly if they've been to one of the big retailers to see what they offer at similar prices.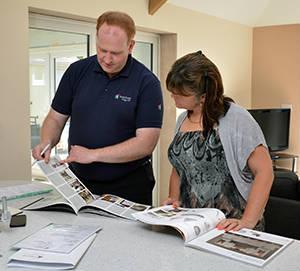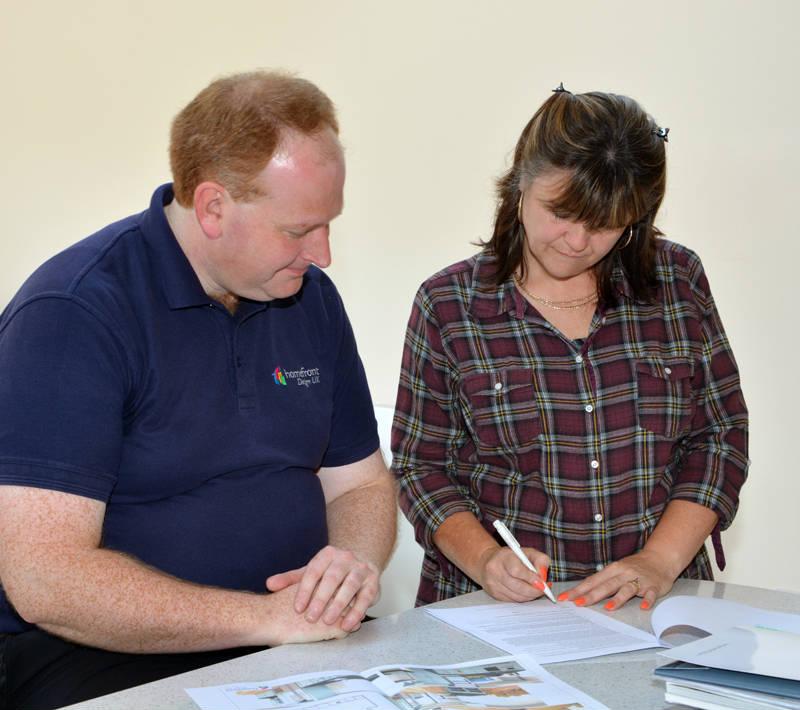 The plan
Based on our discussions I will produce a 3D graphic representation so you can see clearly what will go where. We also make sure there are no potential difficulties with the location of services, drainage and so on. It's easy to make changes at this stage if you've had some additional thoughts since the initial consultation. At this point I'll also give you an inclusive price based on the design and your choice of furniture units, fittings and any other work such as flooring and lighting.
3D Designs

The 3D representations are highly detailed. The units you see will be exactly what you've specified, as will worktops, taps, fittings and any other features. You'll have a clear representation of the finished installation -even down to the paint colour on your walls.
If there are other elements such as a particular view from a window that would influence the overall effect, you'll see that too. This is the clearest representation you can get, from a variety of angles, of your design. We can refine these until you are completely satisfied that what you see on paper matches (or hopefully exceeds) the vision you had in your mind.
The fitting survey
Our planning process leaves nothing to chance. Before your units are built I'll visit the site with the fitter. Together we'll go through the plans to make sure there will be no snags or issues to be resolved during installation.
Inspection
All assembled units are delivered to our inspection centre. I will personally inspect and approve your units before supervising their loading onto the delivery van.
Installation
At this point the fitter is 'king'. I'm on hand to make sure that they have everything they need and that nothing delays the completion of your project.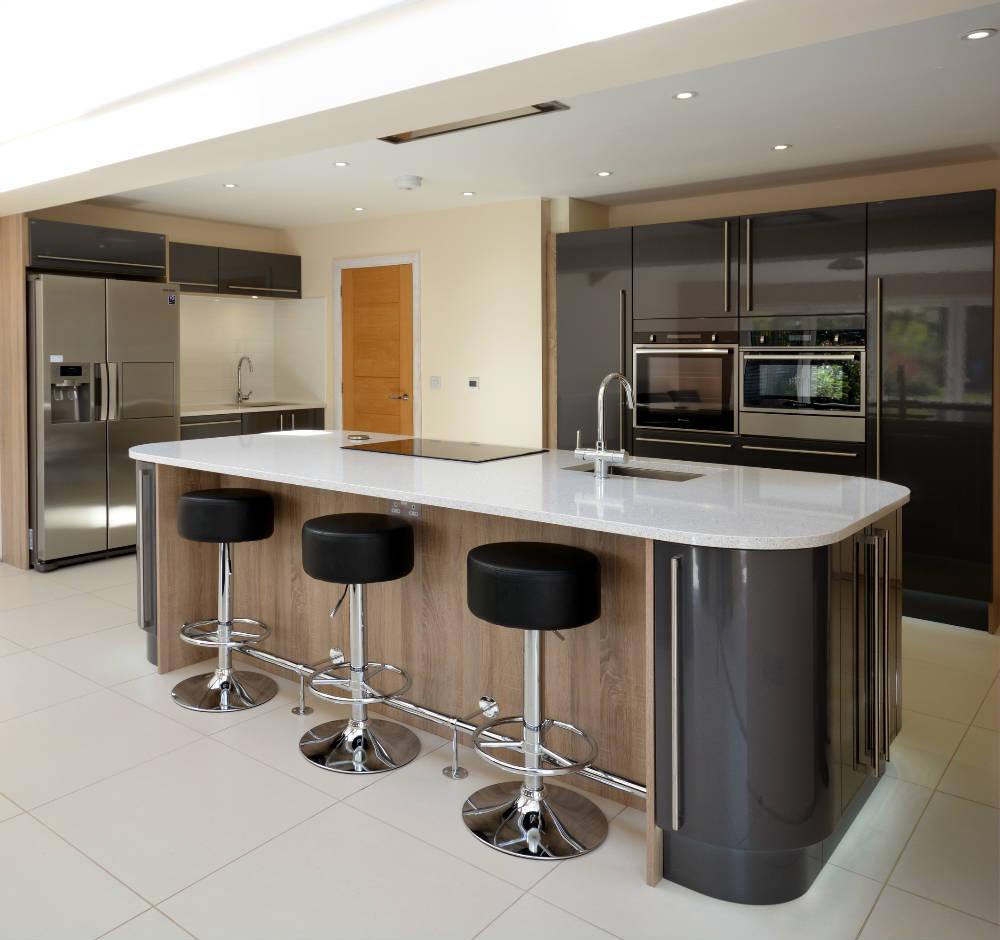 Aftersales
Our commitment goes on well after installation. If you have any issues, including with appliances, we're here to help you get things resolved as quickly as possible.
The furniture units normally come with a minimum 5 year manufacturer's guarantee and appliances with standard manufacturer warranties. Should one of your appliances develop a fault we'll happily contact the manufacturer for you, ensuring that service calls take place as quickly as possible with minimum inconvenience to you.
Our reputation is precious to us and we want to make sure that all of our customers would recommend us to their friends.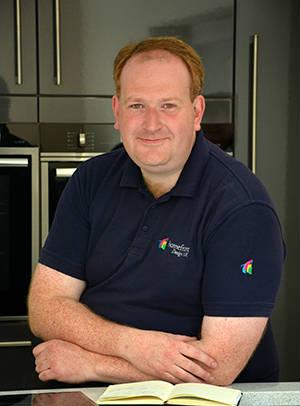 Professional Installation Service
Free Home Design Visit
Every Taste and Budget
Homefront Designs - classic and contemporary furniture that matches your lifestyle and your dreams.